List of Jewish Students at the Esslingen Teachers' Seminary.

The seminary was located in Esslingen near Stuttgart in the Kingdom of Württemberg. Jewish students studied at the seminary from 1820 to 1928.
In 1995 Emily Rose met with Dr. Joachim Hahn in Germany. Together they looked at the list of Jewish teachers he had compiled. They found that Leopold Berlizheimer (her great great grandfather's brother, father of the founder of the Berlitz School of Languages) and David Gundelfinger (her great great grandmother's cousin) had both studied at the seminary in the 1830s. After the visit, Emily was driving back to her vacation apartment on the autobahn. Suddenly, she exclaimed, "That's it!" That is how a marriage was arranged between her great great grandfather David Berlizheimer and his second wife, Mina Gundelfinger! A mystery that she had been pondering was now solved.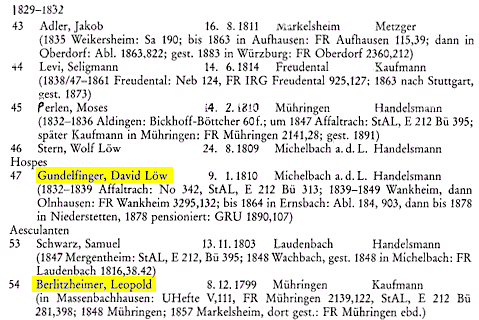 This list provides useful genealogical information. It is also a resource for the history of the Jewish teachers and schools in the German countryside.
My thanks to Dr. Joachim Hahn who was kind enough to give me permission to include his very thorough research on this web site. The material was originally published in: Dr. Joachim Hahn, Jüdisches Leben in Esslingen. (Sigmaringen: Thorbecke, 1994).
Translation and interpretation of a sample entry:

---

Class Year

Number

Name

Date of Birth (day/month/year)

Birthplace

Father's occupation

(Dates serving as teacher in location. Ausgewandert: emigration. Gest: Death.)

---

| | |
| --- | --- |
| FR: | Family Register |
| StAL : | State Archive Ludwigsburg, Germany |
| Aesculant: | Student entered the seminary after receiving training with a private teacher. |
| Hospes (Hospitant): | Student who aspired to be a full-time student but first had to study with the younger students. |

Click on the Images to enlarge