The Story of Bernhard Moos and The Bernhard Moos Elementary School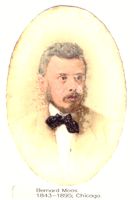 Bernhard Moos was born in 1843 in Buchau. Buchau is a town in southwest Germany. There he trained as a bookkeeper. Bernhard Moos was of the Jewish faith. Most of the Jewish people in Buchau were shopkeepers and tradesmen.
In the 19th century, it was difficult for people to make enough money. Many young people left Germany. When Bernhard Moos was 19, he came to America and settled in Chicago. Then Chicago only had 30,000 people.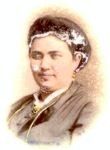 Bernhard worked as a bookkeeper. Like other immigrants he learned English. He and his brother opened a small cigar, tobacco, and snuff shop in the basement of Metropolitan Hall. (At that time, no one knew that tobacco was so dangerous to our health.) They worked very hard. Bernhard married Karoline Berlizheimer who also left Germany at a young age. (Karoline's brother was author Emily Rose's great grandfather). Bernhard lived with his wife and her relatives.
Bernhard Moos was very interested in learning. Chicago did not have a library then. Bernhard Moos volunteered as the part-time librarian at the Young Men's Association. It was in the Metropolitan Building.
The Great Chicago Fire in 1871 destroyed Bernhard Moos' store. He wrote in German to his family back in Buchau. The fire raged for 29 hours. An estimated 300 people died, and a third of the population (100,000 people) were left homeless. More than 17,000 buildings in a four-square-mile area—both businesses and homes—were destroyed. In his same letter, Bernhard Moos wrote that he was able to open his shop in a new location very quickly after the fire.
Chicago grew to have almost 500,000 people and needed a large library building. The building design was very grand and beautiful, with a majestic staircase and marble mosaics.
In 1887 Bernhard Moos was appointed to the library board of directors. He was in charge of new library's construction for eight years. When there were problems, he solved them. He helped all the workers. He made sure that no one stole money.
Bernhard Moos worked very hard. He went to the library every day and became exhausted. In 1895 Bernhard Moos was in his cigar store when some robbers barged in. He tried to fight them off and was hit on the head. Since he was so very weak from working too hard, he could not recover his injuries He died a few months later when he was only 52.
When he died, the libraries were closed to honor his memory on the day of his funeral. The board of directors read a long proclamation in appreciation of his dedication. The grand new library opened 2 years later in 1897. Bernhard Moos never saw it finished.
You can see the library still today. It is now the Chicago Cultural Center on Washington Street. When you go, you will see 2 large plaques near the entrance. On each you will see Bernhard Moos' name.
That same year, the Chicago Board of Education named a school in honor of Bernhard Moos. The board referred to him as a faithful, upright and valuable citizen.
The Bernhard Moos Elementary School at 1711 North California Avenue is named after an immigrant who knew the importance of books and learning. Each student has the obligation to live up to that tradition.





City Watch, The Chicago Tribune, May 24, 2002


Click to enlarge

Moos
Elementary
School
Chicago, Illinois

Bernhard Moos
1843 - 1895